Depending on your style of employment, the coexistence of jobs and tattoos can be a piece of cake or a major concern. We understand that and thought you might like some solid advice from body art professionals on finding the employment and expression balance that works for you.
Making Your Tattoos Work for Your Job
If you don't have tattoos yet or are the type of person that likes doing different things for a living and do not expect to have the same job for a long time, it's wise of you to be thinking ahead about which tattoos will allow you to work wherever the road takes you. Here are some tips that will help keep your self expression versatile enough to chase your passions.
Keep Them Clothed
Choose locations on your body that are easily hidden under clothing or camouflaged by jewelry. Some good places to consider for this are:
Image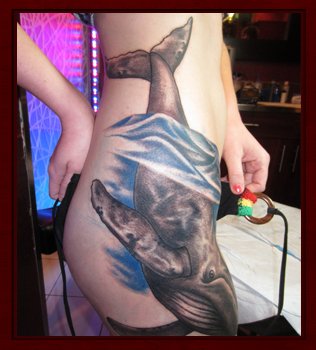 The upper arm - Keep it hidden under your sleeves.
The torso and upper back - Easily and typically hidden by work clothes. Though lower back tattoos are popular, many shirts reveal this area when seated. You can avoid this by staying aware of your shirt length.
Above the knees on your legs - This way, women can still wear work-appropriate skirts
Groin, hips, or glutes - Unless you've got a really exciting profession, these are pretty well covered.
Here's pretty big tattoo we did at the shop that can easily be covered up with the right clothing.
Ink Under Cover
You can get creative with how you hide your tattoos for work. Here are some ideas:
Back of the neck - If you have long hair and like to wear it down to work, go for it.
Fingers - Find rings that are wide or long enough to cover your tattoos
Wrists - Tighten your watch so that it doesn't migrate on your arm while you work, or wear a large bracelet or cuff to keep wrist tattoos below the radar.
Makeup - Small facial tattoos are easy to cover with makeup and you can buy makeup kits from specialty stores including David's Bridal to cover up larger tattoos if you decide to expose a section of your body that's been tattooed.
To hide this tattoo, this lovely lady just has to let her hair down.
Making Your Job Work for Your Tattoos
We don't want you to get fired, but if you've just got to have a very visible tattoo or already have them, then consider professions that allow you to sport your body art.
Image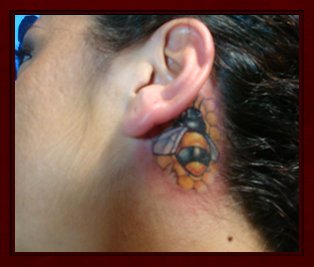 Tattoo Artistry - Not that we're biased or anything. It is pretty much the best line of work to be able to rock your tattoos.
Themed Restaurants - While food service is probably one of the least amenable job sectors when it comes to anything that isn't staunchly conservative, there are restaurants that incorporate an edgy look into their brand. Orlando's got places like Drunken Monkey, Bananas, and Dandelion Communitea Cafe that encourage alternative expression.
New Companies - Many new companies with a more socially liberal company culture aren't as beholden to traditional ideas of how to look at work.
U.S. Military - There are special rules and regulations regarding body art, including unacceptable content (such as sexism, racism, and indecency), and places you may not have tattoos (such as on the face, neck, and in some cases the hands.) As long as your tattoo falls within their parameters, you can have them.
Image
As you can see, jobs and tattoos are not destined for failure together no matter what the baby boomer generation might say. In fact, employment and expression can be balanced quite easily if you're willing to be a little flexible on where you get a tattoo and where you're looking for a job. For more advice from the H&H Orlando Tattoo artists, schedule an appointment today to figure out how to make your tattoos work!