Scott Irwin discovered the art of drawing when he was just a kid, and from then on, he knew he had a passion for creativity.
I was 7 years old and trying to draw a Star Wars action figure. When I was finally able to draw it, that really resonated with me and I actually wanted to draw more. That moment solidified that this is what I want to do.
It didn't take long for his talent to start growing and gaining him recognition. 
I started winning scholarships at school to take advanced art courses at different art centers in the area, and that really blossomed when we moved to Des Moines, Iowa. I started getting scholarships to take human anatomy drawing around 13-14 years old. 
During his teenage years, he was first introduced to the idea of tattoos after a seemingly random exchange with a neighbor.
My dad was a biker. There was one day when a neighbor came over and it was the first time I'd ever seen a dude like him, kind of a hippy and he had a tattoo that said born to lose.
That resonated with me so much that I felt like I wanted to be involved in whatever that guy was in. That's the first time a tattoo struck me as more than just some cool design on someone.
Image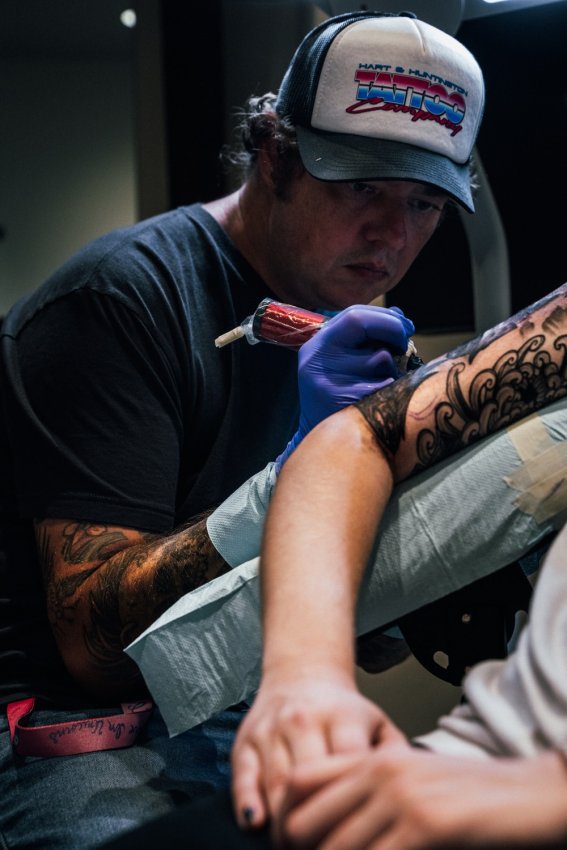 Eventually, he was encouraged to explore the world of tattooing by a friend who knew he had a talent for drawing.
When I was 15, an older friend of mine ended up giving me a real tattoo machine with real needles and anything you'd need to legitimately do it. So, I did my first tattoo on a friend and it really struck a fire in me.
Soon enough that fire was burning white hot.
I started tattooing friends at least 3 or 4 days a week and I became addicted to it. I got really good tattooing in my house. This was also in the 90s, so the caliber of artistry was really low. But I learned through trial and error.
He even picked up a nickname that's stuck with him through the years.
I started tattooing at a time where everyone had nicknames. My real name is Scott but the reality is people don't remember my name, so I just use Cool-Aid because it's easy to remember.
Making money was never the end goal.
The money part of it never crossed my mind. I never thought I wanted to do this for a job. It was more like, I really enjoy doing this and it fulfills me.
Over the years, he's been able to pick up on various styles of tattooing and find his own personal area of expertise.
My style has definitely transitioned. I started off doing new school and then realism. For a long time, I was doing realistic portraits. Then, I started doing what I call illustrative, which involves a lot of line work. Now, I do fine line and micro-tattoos and that seems to be my niche.
Not only did his style change, but so did his perspective on how beneficial tattoos can be for the person that's getting them.
I did a tattoo once that was a cross with some names of a lady's family members, and as soon as she saw the tattoo she broke down in tears. I actually had to catch her from falling because she was so emotional. I still don't know the whole story, but the fact that something that I did helped the healing process for this woman, that's when I realized that tattooing is a service.
Sometimes people just like nice pictures, but other times its actually helping someone heal.
Image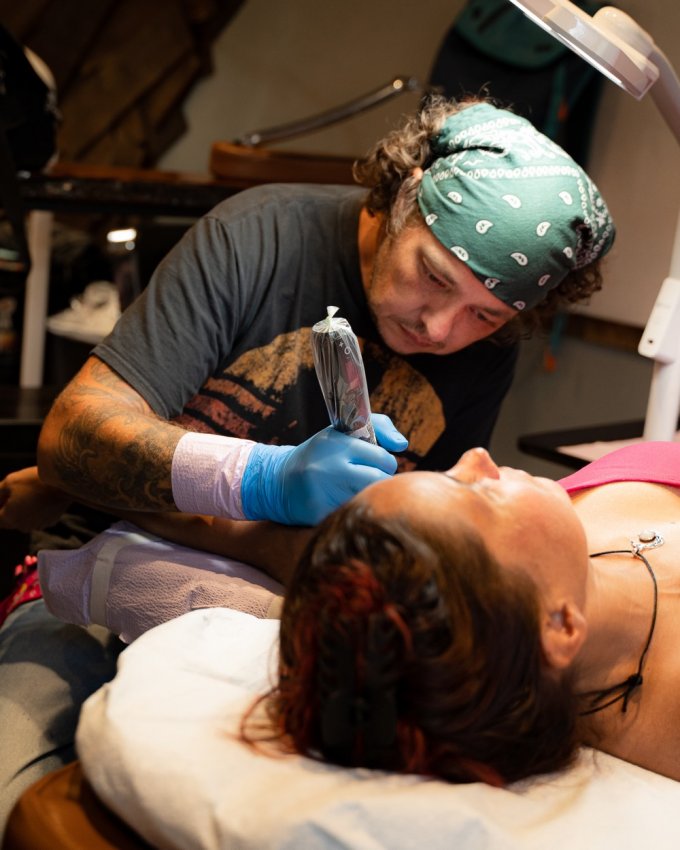 Before he planted his roots at Hart & Huntington Orlando, he spent almost 10 years traveling throughout Europe where he continued his tattoo work despite some bumps along the way.
I moved to Europe in 2011. First I lived in Luxembourg and then I went to eastern Europe but wasn't allowed to tattoo there, so I actually became a farmer. After a few years, I started teaching animation classes in Italy and then moved to Greece where I started tattooing again as a seasonal job. 
Eventually, he found his way back to the states with his wife and children and accepted a full-time position at H&H. But he could've never predicted what would happen at the end of his first week.
I started working for 6 days, then covid hit. I ended up having to go to Iowa where my dad was until covid settled down. Then, I was graciously asked to come back to H&H and this is now where our roots are. 
After working for years both independently and in smaller shops, he appreciates the professionalism that Hart & Huntington strives to provide every single day.
The absolute best part of H&H is the caliber of artists, that's number one. Number two is how they've managed to streamline the process of how a person comes in and gets a tattoo. It eliminates the nervousness of the artist trying to keep everything organized. It's all done by the staff and that alone creates a good experience for the client. 
For Cool-Aid, there's truly no place he'd rather be.
Hart & Huntington has such a strong name in the industry. It's a family environment. People are there to have fun, but we are too.