Born in the Dominican Republic, JC remembers being an artistic child.
I don't remember not doing art. Since I can remember, I've always been drawing, whether it was on paper or on the walls. It was just a part of me, it comes naturally.
Image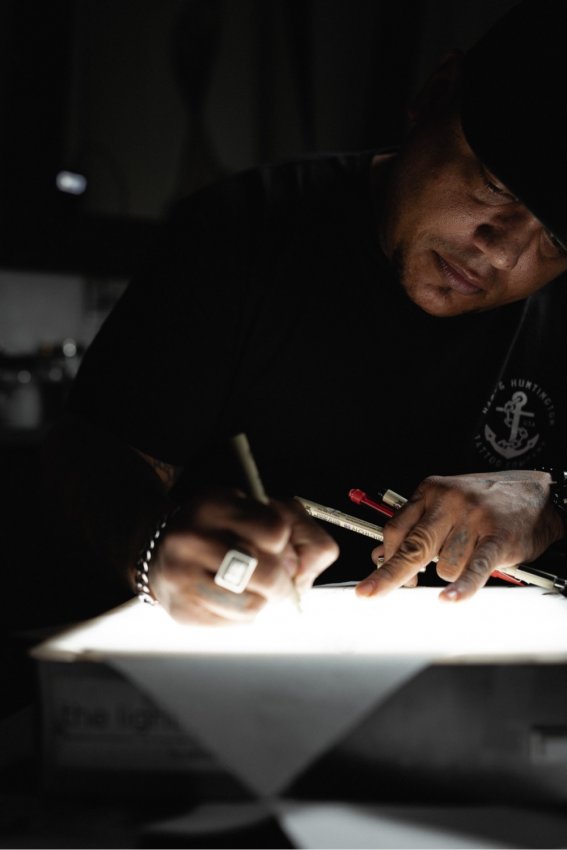 His passion for art, specifically drawing, can be traced back to his childhood when he spent most of his adolescents watching tv.
In the Dominican, there was a cartoon I watched a lot and I can see now looking back that it really influenced what I was drawing. A lot of the work I've done was inspired by that cartoon.
At a young age, JC was also intrigued by his father's tattoo.
My father had a tattoo on his arm and you couldn't really tell what it was, but I was fascinated by it. Then, when my brother was old enough, he got our dad to go with him to a shop to get a tattoo. I remember walking into the shop and there was art everywhere. I was just blown away.
JC and his family moved to New York when he was a kid, then settled down in Miami Beach where he grew up and got his feet wet in the tattoo business. It wasn't until an old friend from high school invited JC to visit his new tattoo shop that he realized he wanted to pursue tattooing himself.
I went by to look around and just fell in love with it. But at that time, tattooing wasn't something that your family would be happy about you doing as a career. There was a lot of taboo around it.
My mother wasn't happy at all. She even packed her bags to leave the house because she was so angry. My father kind of agreed with her but would also tell me in private that he wants me to do what makes me happy. I knew my purpose was to pursue art, so I was very comfortable with my decision.
He began his apprenticeship at a shop in Miami Beach called Tattoo Circus, but it wasn't exactly what you would consider traditional.
It didn't cover the things that would be covered nowadays. It was just different back then. You would learn the basics, clean up the shop and watch how things were done. Some things were harder than others, but I just wanted to do it so badly. It was hard at times, but I would do it again.
One of the biggest lessons he learned was how to provide quality work.
You have to provide a certain level of service and quality. You have to be effective and friendly.
So many tattoo artists are stuck on being a certain way and they just don't know how to treat a client the way they're supposed to be treated.
Image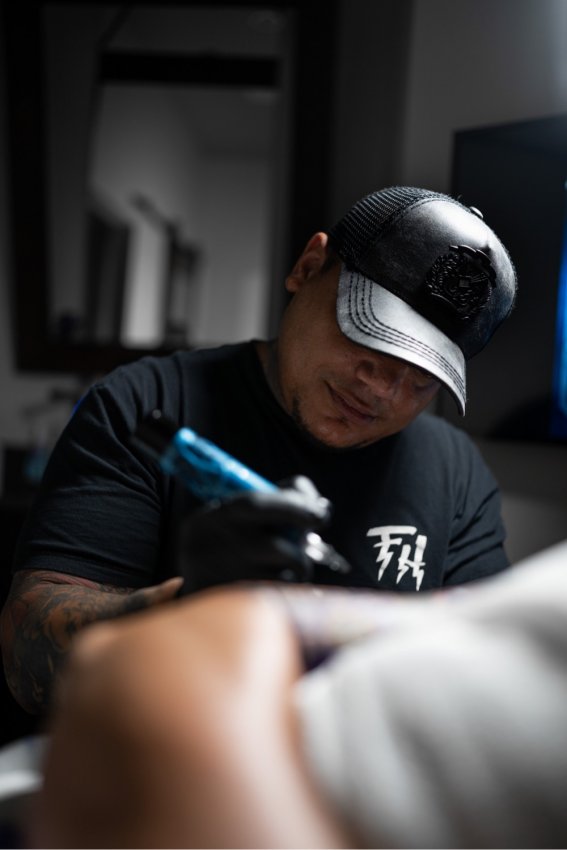 He also realized the importance of providing clients with thoughtful feedback on their ideas, especially when they won't hold up over time.
Sometimes, people come in with a misconception that they can fit a large amount of work in a small amount of space. One time, I had a client that wanted a substantial amount of work for the space he was able to give for the piece. It's not challenging to make it look fantastic today, but in a few years, it'll definitely change and the person may not be happy with it in the long run. So, I simplified everything he wanted so I could bring it to a scale that was doable.
JC eventually relocated to central Florida and continued perfecting his craft at a small shop. It was there that his boss encouraged him to check out Hart & Huntington.
I was working for someone who actually left the shop to work at H&H. She told me to go there and talk to them, so I did and I've been at H&H now for about 13 years.
He knew from day one that this wasn't your average tattoo shop.
From the moment I walked into H&H, I understood that it was the first time I was working with an operation that was running so properly from a business perspective.
The more I've worked with this company, the more I want to be here. It's taught me a lot and I understand a lot now so I'm very happy with where I'm at.
Over the years, JC's style has remained uniquely diverse. 
I originally liked oriental and Japanese-style work because most of the artists I worked with were doing that. But these days, my style is a mix. Since starting at H&H, I do such an array of things on a daily basis. I don't have a set style.
As JC currently works with all kinds of styles, he understands the importance of being flexible.
There's always going to be a new trend, so you have to be flexible. You can't get stuck in specializing in one thing and one thing only. I'm very open and willing to take in whatever comes my way.
Not only does he know what it takes to provide his clients with versatility, but he knows how to create an experience that sticks with them long after they leave the shop.
One time, I had a cop who came from Europe to help when 9/11 happened. I did a scene of NYC with the statue of liberty and he actually came back and brought me a gift. It was a hat the cops wear in Europe. It made me feel really good knowing I did something for someone that meant something and how happy he was.
There's no place JC would rather work than at H&H.
The best part is that it's run the right way. You have to keep yourself at a certain level, you have to stay sharp. It keeps you from getting rusty. It helps you as an artist and helps you change with the times.
To me, it's the best shop there is. I'm so proud to be here.