I'm not saying that you need a tattoo to ride a motorcycle.
Or, to ride a motorcycle, you have to get a tattoo because that's not the case. But in my mind, those two have always coincided.
This is likely because Chris Sickwideglide's introduction to motorcycles and tattoos happened simultaneously — and at a very young age. Born and raised in Central Florida, 5-year-old Chris would skateboard down the street just to get a glimpse of his neighbor's Harleys.
The guy who lived down the street rode motorcycles. He picked up on my interest in bikes and was really nice to me. He had an 81 FXE that was choppered out. It was cool, and it was ratty, and I was into that. So I would ride my skateboard past his house every day to keep my eye on the motorcycles and listen to them run. There was always a motorcycle out.
'The motorcycle-riding neighbor was 'pretty covered in tattoos,' says Chris, which may be why the two go hand-in-hand for him.
I remember he had the quintessential eagle on his forearm and a Harley Davidson Engine on his other forearm. It was neat to see this stuff on somebody's skin that I could barely draw on paper.
To five-year-old Chris, that was some pretty cool stuff.
I got into tattoos. As I grew older and learned more about them, I got into color tattoos because I'm a colorful kind of person.
Chris went from seeing old black and gray tattoos on his neighbor to rushing to get a colorful rendition of The Hookup's Chic tattooed down his shin the minute he turned 18. That was Chris's first shot at colorful tattoos, and he was hooked!
The cat girl from one of my skateboards was my first tattoo. The next one was a Zoo York logo of a guy doing a kickflip. We put some color in that and some Tribal because it was 1998 and Tribal tattoos were cool. From there, it just progressed.
Progressed to the point that he's surpassed that neighbor in the number of tattoos.
I had one; then I had two. Getting tattoos very quickly became a thing for me. Between 18 and 20, I think I got both my lower legs done, my forearm, my hand, my chest. I started getting them everywhere.
If you see Chris wearing a shirt, he appears to be heavily tatted up. But we love his response when asked how many tattoos he plans on getting.
I joke, and I say when I'm done, I'll have one because this is a sleeve, and that is a sleeve. My chest is done, my lower legs are done, my arms. So when I'm done, I'll have one.
One. Big. Ass. Tattoo.
As much as Chris loves tattoos, you won't catch him on the other side of the chair. Oh, he's tried. But, the self-dubbed perfectionist decided he'd rather concentrate on one thing. Motorcycles.
One of my ex-girlfriends was a tattoo artist, and she encouraged me to pursue that. So I spent a lot of time on it. I got my license, and you know, I've tattooed. But you can't get away with even the smallest mistake on the skin. I'm too much of a perfectionist to pursue tattoo art. Plus, I had much more experience in Harleys. That was my bread and butter.
Harleys. Motorcycles. Those are not only Chris's passions but his profession. These days Chris is busy with Blockhead—the hit YouTube channel.
We are the real people behind the YouTube channel. John (Blockhead) started talking behind the camera wall explaining how to ride, going on rides, and just talking about his experiences and spending time with his friends. It just took off.
Chris met Blockhead two and a half years ago when he came into the Central Florida dealership where Chris was working to film motorcycle rides.
I didn't know who he was. He was just some guy in my shop filming. I didn't know how relevant he was then; he appreciated that. We got along right off the bat and decided to film content together.
Blockhead's success has evolved into a brick-and-mortar business. The same business where Chris met Todd, the manager at Hart & Huntington Orlando.
Todd is a customer at our (Blockhead) shop. We run our business similarly to how Hart & Huntington runs theirs. Todd complimented us on how smooth and convenient the process was. We found out he worked at Hart & Huntington Orlando, and we all became friends.
Image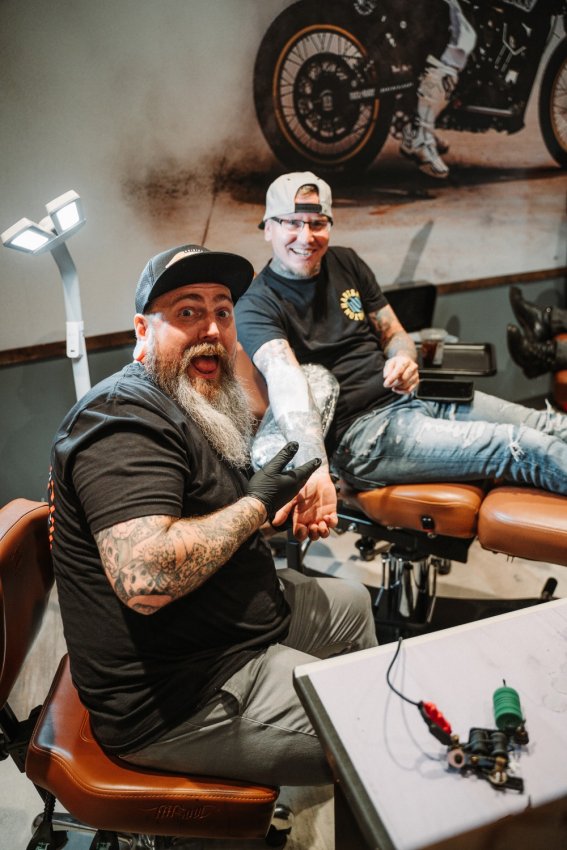 Todd quickly called out the guys at Blockhead on why they haven't been in to get a tattoo.
He was like, 'when are you guys coming in to get tattoos? I'll set you up with time slots if you're ready.
A frequent visitor to Universal Orlando, Chris had been to Hart & Huntington Tattoo Co. at Universal City Walk a few times.
My first impression was how clean and modern Hart & Huntington Orlando is. I hate to say it, but it's not what I'm used to. I'm used to shady tattoo places.
With the appointments scheduled, the guys at Blockhead—Vinny, John, and Chris—set out to get their new tattoos.
Image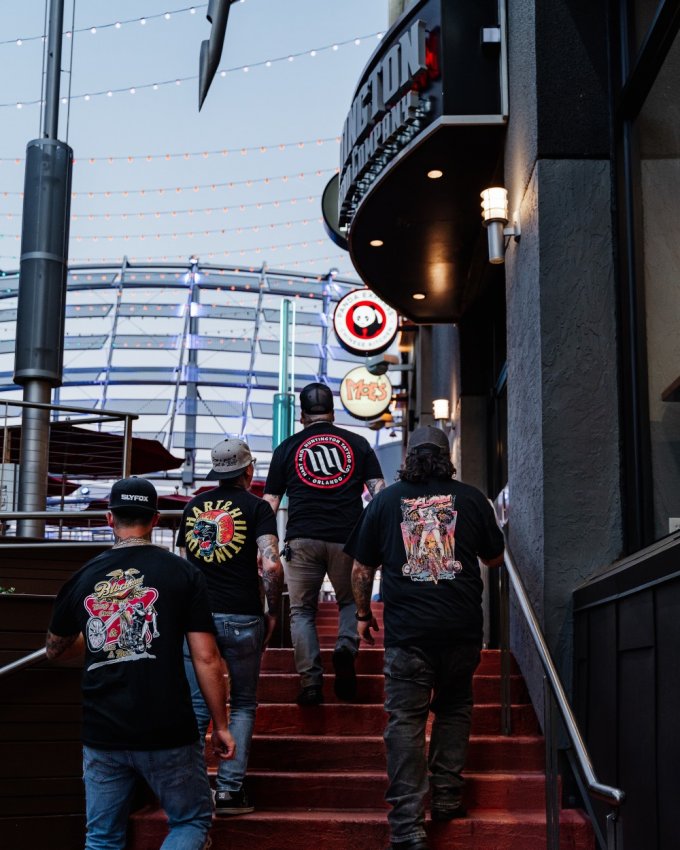 I got a tattoo of Oscar, the Grouch on my forearm by Mark at H&H. That's what everybody calls me. It filled in a blank space that I had for years. Mark did a great job. It's a cartoon-like style mixed with a little Japanese cloud behind it because my arm was full of Japanese-style tattoos. Mark did a good job blending the new tattoo with the current style on my arm, making it look like it belongs. So it's a traditional cartoon with a little black Japanese bubble cloud behind it.
Image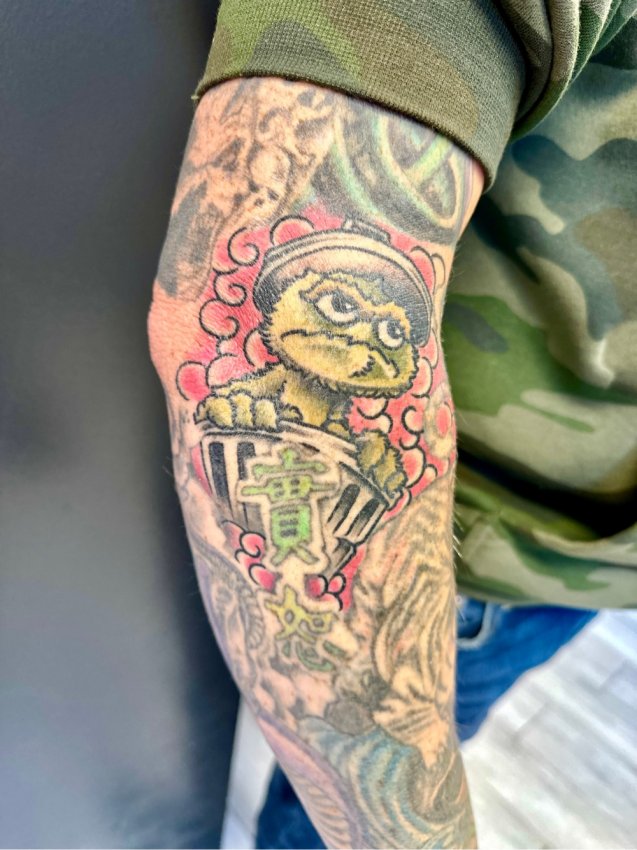 It can be challenging for tattoo artists to work alongside existing tattoos. That's why finding a skilled artist who really cares about the outcome is so important.
Mark is somebody that gives a ****. He wanted to know what I liked and what I wanted to be sure it was the right fit.
Placement is always important, and then on top of that, the color choice had to match up. He sees me, and I'm pretty tattooed up, but he wanted to make sure he did it right. It was his concern that stood out.
Image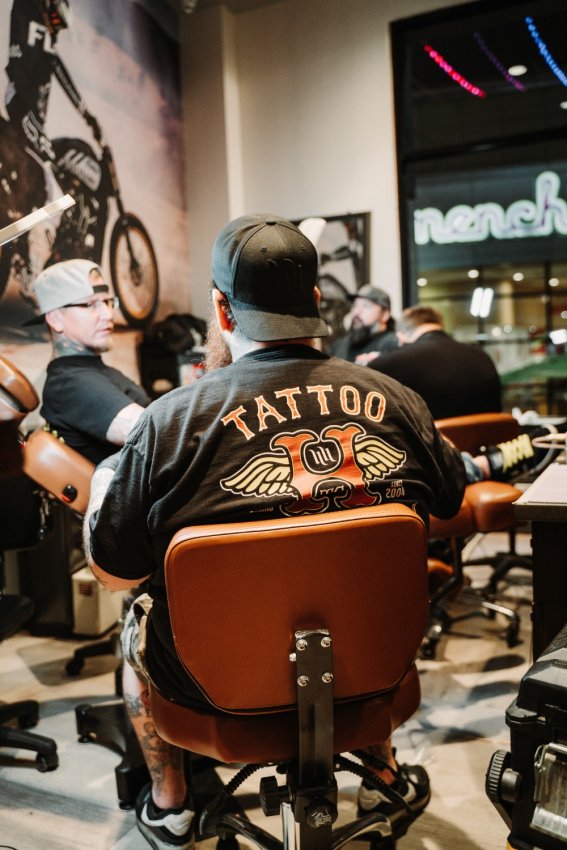 Whether you are covered in tattoos or just starting, Mark takes the time to understand what you are looking for and make sure it's the right fit. If you're at Universal City Walk, stop by Hart & Huntington Orlando. Meet Mark and our other talented tattoo artists. That's the advice Chris would give anyone in the market for a new tattoo.
If you're thinking about getting something done, don't be afraid to swing into Hart & Huntington Orlando and talk to Mark or the other artists. Talk to the people at the desk. Let them line you out. See how you feel because it's really more of a feeling than anything else.