Any H&H Orlando tattoo artist can tell you that pinup tattoos aren't just sexy- they're classic, timeless art pieces celebrating the female form that can be as elegant or provocative as you choose. Artists Twig and Isaac gave us their thoughts on and tips for creating the right pinup tattoo for different tastes.
If you're thinking about getting a pinup tattoo, you have a few choices, including:
Image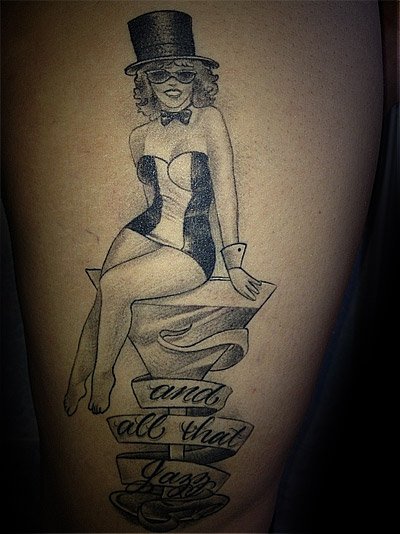 Traditional pinup tattoos are ideal for people who like their tattoos to look "inky" instead of photographic and are characterized by hard lines, simplistic styling, and stark shading, as in this example:
Realistic pinup tattoos are created through a different process where fine lines and details as well as facial features are emphasized, resulting in tattoo closer to a photograph. This H&H Orlando pinup tattoo was performed by Isaac and based on artwork by famed pinup artist Gil Elvgren
Customized pinup tattoos that emulate a real person, as opposed to a feminine ideal, in tattoo form.
Here are some tips from our Orlando tattoo artists, Twig and Isaac when considering a pinup tattoo of any type:
Image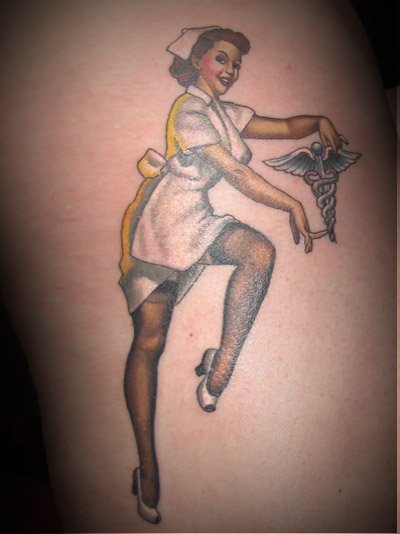 Decide whether you want a realistic or a traditional tattoo, and if you want it to look like someone.
If you want the tattoo to look like someone, a fun way to get an idea of what kind of a pose you want tattooed is to take photos of them all dressed up. Then you can bring your favorite photo for the artist to work from.
You can find sample poses you like from Google searches of vintage photography or famous pinup artists like Alberto Vargas or even from adult magazines that feature women.
Communicate clearly with your H&H Orlando tattoo artist about whether you want the figure to be true to life or to be rendered into something more traditionally sexy in the pinup style since not all bodies are built the same way.
Call today or stop by the shop to set up a time to speak with one of our Orlando tattoo artists about the tattoos you have in mind. If you're sure what you want and are ready to rock, you can make an appointment online right now.