JR: Neotraditional tattoos have all the foundations of American Traditional pieces but take a more stylized and detailed approach.
Neotraditional ink is less flat and more realistic. Chris X Edge, another talented artist in our Orlando shop, finds the differences in the details.
CXE: Neotraditional tattoos use multiple line weights and super bold outlines with features that aren't as exaggerated as you'd find with Traditional or New School tattoos. And they use a lot more saturated color. I tend to go as bright and vibrant as possible within the style.
When tattoos first came onto the scene in the U.S. back in the 40s and 50s, they were simple and almost cartoonish.
 CXE: Everything looked more like a caricature back then; very stripped down. Neotraditional is the evolution of what we've seen in tattooing over the last 50 to 60 years. 
Since then, the color palettes used for tattooing have grown from a handful to an almost infinite number of hues. And that allows for a lot more creativity and playfulness within the medium.
CXE: I really like comic books and, if you were to take another art style or format outside of tattooing, it's probably the closest thing. I always looked up to Jim Lee and Joe Mc(sp?), who really leaned into that super bright Neotraditonal style. It's what got me really excited as an artist.
Chris started out as a graphic designer and found his way in the tattoo world because of the Neotraditional style.
CXE: I was influenced by comic books very early on. I remember walking into a comic book store as a young kid in the early 90s, seeing a cover on the rack and just wanting to have it. When I started tattooing, I was chasing the American Traditional style but eventually landed on Neotraditional because it felt just as natural and comfortable to me as picking up a pencil or pen to draw like you would with a comic.
But unlike graphic design, tattoos don't allow for as much flexibility when it comes to executing small details.
 CXE: Tattoos can only be so small without getting muddy. It's about the art of reduction, shrinking down small details so they can still come out crisp and clean. The Neotraditional style allows me to keep those elements in the artwork and ensure they hold up within the tattoo. 
As you can imagine, that can be a serious challenge. It takes a talented tattoo artist to make the Neotraditional style sing. Unlike their American Traditional counterparts, they have a lot of flare.
CXE: Doing Neotraditional-style tattoos pushes me to refine my technique so that my tattoos have that sparkle while still being able to age well. Solid application is always going to win out and make a tattoo look good for a real long time.
Hart & Huntington tattoo artist Jimmy Rogers will be the first to tell you that. He's been dishing out Neotraditional ink for more than a decade now. It's  one of his favorite styles because it's so dynamic.
JR: I started seeing it about 15 years ago, and I thought it was awesome. Everything was bubbly and animated at the time. You know, a lot of New School work. But Neotraditional was a manifestation of everything I liked in art all in one type of tattoo: traditional designs with added flare. Every artist can have their own take.
When you let a tattoo artist do their thing, that's when the magic happens.
JR: I take a few different styles that I like, draw inspiration and influence from several different places, and incorporate it all in one Neotraditional design. For example, a Neotraditional eagle has an anatomically realistic feel mixed with traditional approaches to bring it to life: bold line work, heavy black shading and lots of detail. You can really make it your own.
If you come into the Hart & Huntington Orlando shop today, you can catch Jimmy and Chris doing their Neotraditional thing in full swing.
CXE: Some of the best tattoos I've done over the years have been Neotraditional.
CXE: I had a local DJ come to see me with a loose idea a few years ago. He wanted something from the Legend of Zelda videogame using lots of bright colors so that it would pop on stage. I presented him with the idea of doing something a little different in terms of hues and overall brightness of color. He was willing to give it a shot and was so pumped when he saw the finished piece in the mirror. It's still one of my favorite tattoos to date because he let me apply my ideas to something he wasn't necessarily expecting.
But perhaps there's no better ode to the Neotraditional style than the tattoo Chris did on his wife.
Image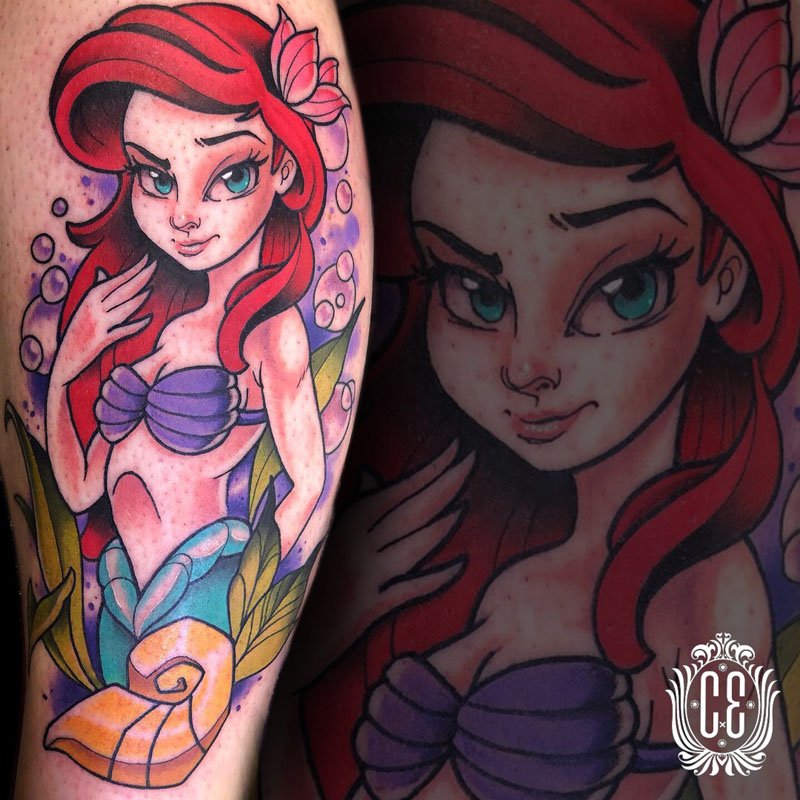 CXE: It's a Neotraditional version of the Little Mermaid. Just about every time we go into the theme parks, someone stops us and wants to take a close look at it. It's nice to be able to see that tattoo age over the years and still get complimented on it on an almost daily basis. It even won an award at a tattoo convention.
Jimmy's love for Neotraditional ink transcends to his very own collection.
JR: I felt physically cooler when I got my first Neotraditional tattoo. It was my first neck tattoo as well. I got a skull and rose by an artist I really admired. It took five hours and hurt like hell, and I was so exhausted when it was done, but immediately happy with how it turned out.
He recently got to do a couple of Neotraditional neck tattoos on a client, who's now turned into a lifelong friend.
JR: I love doing neck tattoos because I love mine so much. My buddy Gregg came in and got a Neotraditional-style gorilla tattooed on one side of his neck. When I was done, we were both super pumped with how it turned out that he came back soon after to get a hawk-headed parrot on the other side of his neck. The whole experience just reminded me of when I got mine. It was dope as hell.
Image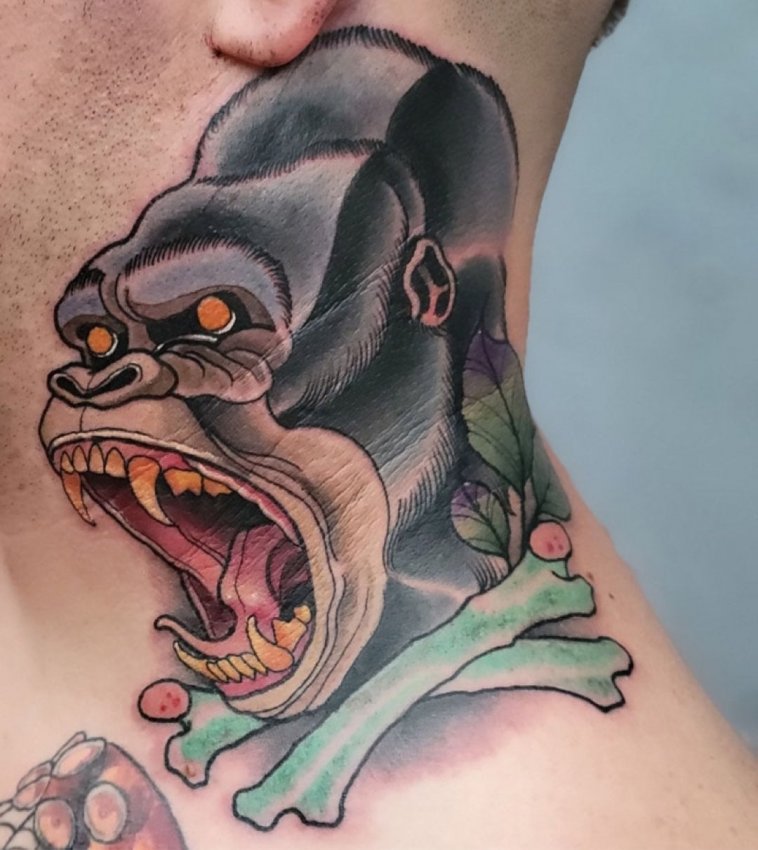 Before he did that great Neotraditional work for Gregg, Jimmy still remembers how it felt to do one of his very first Neotraditional tattoos.
JR: It was on the back of this dude's head, so everyone was going to see it. I just felt like I nailed it. I was really proud of it and wanted to show it off to everyone. That tattoo made it into a couple of magazines, so I was pretty excited.
Any artist who takes on the Neotraditional style can show their true creativity and mastery of the medium. That's really what makes it so special.
CXE: Neotraditional allows me to pick apart everything I've learned from the last 30 years as an artist. Right now, I'm trying to get back into the comic book style I admired so much from the 90s and infuse it into my work. A lot of the stuff I've been working on recently includes a lot of tropes of the style but with my own comic book spin.
JR: I just look forward to being able to improve and fine tune little details whenever I do a Neotraditional tattoo. Whether it's something as small as an infinity symbol or a full sleeve, if it comes out clean and great—and the client is happy with it—that's what really matters to me. I'm just excited for the opportunity to put forth another badass Neotraditional tattoo for the next person that comes in.