Hart & Huntington's own wickedly talented Cool-Aid and Isaac brought their skill to force at MegaCon 2011! The guys had a great time at the convention and wanted to share some of their experiences with H&H fans and other video game tattoo enthusiasts.
Cool-Aid and Isaac got to create a great mix of tattoo art over the weekend including specific video game tattoos, poetry, and other more general gaming tattoos. Cool-Aid did a rockin' tattoo of Yoshi on one gamer's foot and Isaac had the great honor of inking the Tri-Force this year.
Both Cool-Aid and Isaac agree that one great aspect of working with unique individuals to achieve success in such a personal art form is the creation process. Most of the video game tattoos Cool-Aid and Isaac did at MegaCon were spontaneous, so they got the opportunity to really dive in and ask a lot of questions to get to the same page on their customers' inky visions.
Image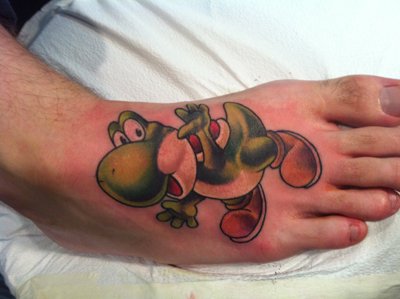 Cool-Aid finds that straightforward questions help get to the bottom of what will make a person truly happy with their video game tattoo.
He asks what games they've always liked and which type are their favorite to play in order to weave their way to a perfect personal gaming tattoo. When asked the same questions, Cool-Aid says he digs old-school games, games without manuals, where you run around, jumping and shooting. Free-style all the way!
Isaac brought some of his game-related art to MegaCon this year. His Assassin's Creed paintings were a huge hit among the high school crowd and Cool-Aid's steam-punk-inspired Star Wars paintings were not to be missed! Hart & Huntington is proud to have such multi-talented artists on their team.
The guys' experience at the convention was certainly colorful and they, like many others, felt like they found themselves in a different world at MegaCon, surrounded by characters and costumes from a huge range of classic science fiction, video games, fantasy, and beyond. Cool-Aid and Isaac had a fantastic time and said that it was a real pleasure to represent H&H at Megacon 2011!