The H&H client has been an artist all his life—a classically trained illustrator by the Ringling College of Art & Design and a Walt Disney World painter and window dresser before making his name on HGTV Design Star.
That's why he's been coming to our Orlando shop for years, where he's spent hours in H&H tattoo artist Cortni West's chair, covering his body inch by inch with memorable ink. True works of art.
Art has always been a part of my existence. It's something I've always gravitated to.
As a kid, I was obsessed with animation. I'd wake up on Saturday mornings, grab a bowl of cereal, watch cartoons and just color for hours.
David grew up in Minnesota where he spent every Friday night watching The Wonderful World of Disney with his family. It was a ritual that led to his passion for animation and illustration.
I dreamt of being a Disney animator, so when I graduated high school, my dad took me to the Ringling College of Art & Design in Sarasota, FL, and I don't know how he did it, but we also went to Walt Disney World in Orlando and met with some animators.
But after taking Animation as an elective in college, he realized it wasn't the path for him. 
Computer animation was just getting started, but I didn't love computers or have an affinity to go into animation that way. Plus, I couldn't imagine drawing the same thing over and over again, day in, day out. So I ended up majoring in Illustration where I could paint, draw, sculpt … experiment with all types of art versus just one.
When he graduated, he winged it. He went to work for Disney as a Visual Merchandiser for six months—and hated it. It wasn't creative enough for him. But his boss saw his talents and put him up for a spot with the Parks Production Company, which dreams up and builds Walt Disney World's storybook window displays. 
It was a huge transition for me, an experience that taught me the fine art of being perfect. Sculptures at Disney are nothing short of immaculate—they can't have any flaws or marks. It was a tough job, but it made me appreciate that, if you don't have finishing skills in any artistic life, your work isn't going to look expensive or truly finished. 
It's no surprise this sense of perfection has since spilled into David's collection of intricate tattoos. Each has meaning. Each is well thought out. Each was realized at H&H. 
Tattoos are a beautiful, brilliant way of expressing yourself. I'm a blank canvas that needs to be filled!
I literally stay up at night thinking and researching about what I can do next, what area I can have tattooed that's interesting, different and fun. It's a creative outlet, and Cortni knows how to make it all happen.
Tattoos have been on David's mind since he was 16, but he grew up in a conservative, Christian family in the Midwest where they weren't exactly part of the culture.
My parents were like, 'If you get a tattoo, no more funding for you.' But as a teenager, that just makes you want it more. So I got a dragonfly tattoo right after college. My sister and I started a design company called Dragonfly Designs, so it meant a lot to me.
And once he moved to Orlando, David turned to H&H to continue his tattoo legacy.
I researched a lot of artists in Orlando, but so many of them had huge egos. Then I found Cortni. She's super good, and she knows it, but she's not full of herself. If a tattoo artist is good at realistic work, you know they're going to be able to do any style for you. And she can. She's amazing.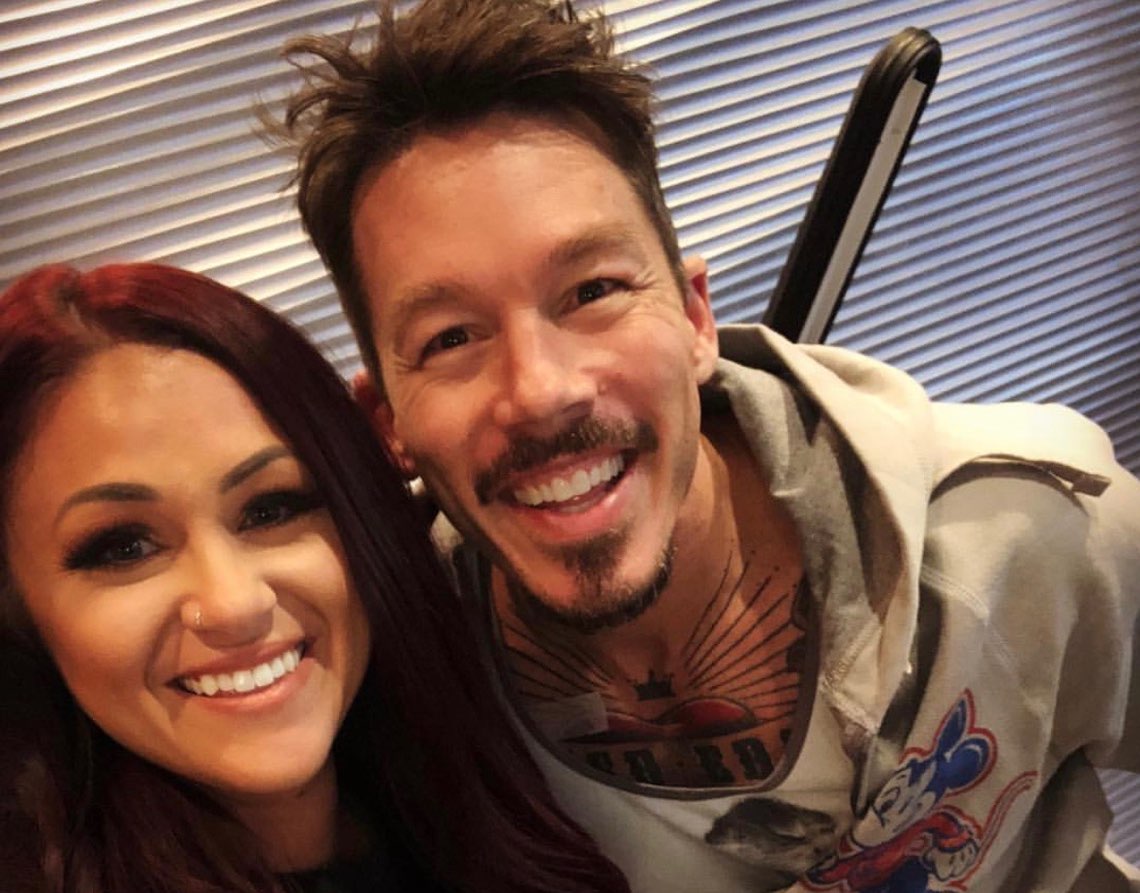 David doesn't have a specific style of tattoo he gravitates toward. He gets something different every time he pays us a visit. And eventually he'd like to have 40 percent of his body covered.
My body is like a scrapbook, a time capsule. Cortni never knows what's happening when I come in. I usually hit her blind with my requests, but it always works out. Even if something isn't her favorite style, she loves the challenge and we both end up loving the finished piece. That makes the whole experience more special for me.
Each of David's tattoos has a significance, but they also have a sense of humor.
My mickey mouse tattoo is probably the most joyous. I love it so much. He not only makes me happy, he makes everyone else around me happy. He's epic, a happy-go-lucky soul that's full of magic.
After his gig working on Disney's window displays, David began contracting with an interior design firm. But not out of choice. 9/11 happened, the market crashed, and he was laid off.
I was out of a job, everything I worked for was done. Probably a week before I was going to lose my house and declare bankruptcy, I met an interior designer at the gym. He needed paintings done for one of his client's homes and asked to see my portfolio. He gave me a $2,000 budget to do this kid's room and it turned into an unlikely, super fun project for me.
David seized the opportunity, creating dozens of fantastical kids' rooms over the next few years. That's when his friend told him about the HGTV Design Star competition and encouraged him to enter.
I had nothing to lose at that point, so I thought 'why not?' I applied, I got in. And it was super weird for me. I didn't know interior design, I knew art, but I absorbed so much with the interior design firm I'd worked with that I applied that knowledge and ended up winning the thing!
David's had an impressive TV career for 13 years now.
It's my fairytale. Every single day I pinch myself. I do TV! I just giggle—what a blessing, how much fun I'm having. I'm just enjoying it. I think that's how you have to approach life—roll with the punches and seize the opportunities.
It's that type of thinking that allows him and Cortni to bond so well at the H&H Orlando shop. She takes her work seriously like David, but always has a smile on her face.
I didn't expect to become such good friends with Cortni. She's an amazing woman with an amazing story. She actually has a lot of friends who are her clients, and that speaks volumes. I adore her. I'm even going to her wedding!
That's why it's important to get to know your tattoo artist long before the needle hits your skin.
Everyone's willing to have a conversation at Hart & Huntington. No one's quiet and stuck in their corner. I'd recommend anyone getting a tattoo to get to know the artist, get to know their work. The pool of talent at H&H is nothing but perfection. Most other places you find one good artist among seven, but not here. You're getting something permanent on your body, so you want your artist to be equally as excited about it as you are.
Celebrity endorsements don't hold up too much these days. They're often paid, scripted and inauthentic. But David Bromstad speaks from the heart, and we're honored that he's a part of the H&H family.
I'm an enigma wrapped in a tortilla. Sugar-coated, of course! I'm not an actor, so whatever you see on TV is pretty much how I am. I just enjoy life and every aspect of it.
I wake up every day going "I'm alive, yes! This is a day to be had.'
You can watch him (and his latest ink) on the latest season of HGTV Design Star, airing now on HGTV.