"I want to be remembered for how I make every one of my clients feel."
For Orlando native Jessica Cicada, tattooing is just as much about interacting with clients as it is creating an incredible piece of art. She wants their experience to be both meaningful and authentic for them.
I want my clients to walk away feeling that I was authentic and genuine. And that I gave them all the best feelings in the world. I think that's more important than the craft in itself.
Jessica landed at Hart & Huntington Orlando because her daughter started a job at Universal Orlando Resorts, but there couldn't have been a better place for her to create wonderful experiences for her clients.
My daughter got a job at Universal, and I thought it would be cool to work near her. I could selfishly say that I thought it would be really cute to have lunch with my kid when we were both on break. When I stopped into Hart & Huntington the vibe immediately caught my attention—people are excited to get tattooed here! It's like they've been waiting forever for this. They seemed thrilled with the whole process, and working here allows me to be a part of this memorable experience. Hart & Huntington Orlando took my career to the next level. 
From the moment I walked into the studio, I noticed that the artists are so happy to be at H&H Orlando. Everyone's just so jazzed, and I love it!
Interacting with clients has always been what drives Jessica. Making connections and having clients return to her is a big part of tattooing for Jessica. Placing a tattoo on someone and knowing they will have it for the rest of their lives is a responsibility that Jessica takes seriously.
When I give someone a tattoo, I put art on the body that will be there for the rest of their life. I'm spending at least an hour with this person. People don't realize how intertwined your lives become during a tattoo session. That person will always remember me. They may not remember my name but will remember getting the tattoo experience.
There's so much brotherhood in the tattoo industry. You become so familiar with your clientele. I think more so than any other service industry—probably because you learn so much about them, the meaning behind why they choose a tattoo, and their life story. There's usually so many emotions that go into it.
Jessica finds tattoos memorializing loved ones that much more meaningful.
I do a lot of tattoos memorializing a family member or pet. I feel like those are the most memorable sessions because my client was touched by someone, and I can help be a part of their healing process. That's special to me. However, those sessions are more stressful because there's a lot of pressure to nail that tattoo and give them a memorable experience rather than adding more agony to the situation. So every time I see a client happy—crying tears or joy, or just moved by the tattoo—I feel like I gave them one more piece of their healing puzzle. Those are always really awesome sessions.
Whether memorializing someone or creating a stand-out piece of art, Jessica's tattoo style is so unique that clients seek her out. She creates eye-catching tattoos that balance fluidity and line work with underlying Watercolor vibes. But this remarkable style was born from an unfortunate event.
How I came into my style is actually a crazy story. I had a terrible medical accident pretty early in my tattoo career. I was in a coma. I couldn't speak for a long time. I had a lot of brain damage. As I was getting back into the swing of things as a tattoo artist, there would be times when I was in the middle of creating a tattoo and I would just forget who I was—forget what I was doing, forget everything about my job. I would black out. I had to go into the bathroom, collect myself, come back, and keep working on a tattoo.
While Jessica is no longer affected by the accident, she is grateful that something positive transpired from her adversity.
One day in particular, I asked a regular client if I could try a different style. And she said, 'Yeah, cool.' So I did all this crazy sketchy stuff around her flower tattoo that I had done a while back. I mostly did it because, at the time, my anxiety was so bad that I couldn't pull a straight line to save my life. So I drew this sketch-like style around New Traditional Line Work, which came together beautifully. She LOVED it! She thought it was the most incredible tattoo and was really encouraging. It was amazing. My coworkers were saying, 'Oh my gosh! That was so cool! You should make this a style!'
And, so she did. That was over ten years ago.
My style basically developed from my disability.
People come to Hart & Huntington seeking Jessica's dynamic personality and unique tattoo style.
It's unbelievable. All these years later! Now, I'm sought after. People want this style that came from me being sick!
Jessica may have come into her own style of tattooing because of her accident, but art has always been a huge part of her life.
If you ask anybody in my family, I've been drawing my entire life. Art came into my life early on. I had a few family members who were crafty—not necessarily with tattooing—they did murals and painting. So, I gravitated to art at a young age doing whatever I could—from drawing to music—to work on my craft. I always wanted to be an art teacher or do something art related.
Jessica was first introduced to tattoos by her dad, who was in the military.
My dad was in the Navy. He had Old School tattoos—Sailor Jerry style. Even my great-grandfather, who came from the Philippines, had tattoos, and I always thought it was so cool how they aged—not the best quality of work, but I thought they looked so classic. They always made people look so cool.
In the early 2000s, Jessica decided to turn her love of art into a profession and become a tattoo artist. At this time, there were not a lot of female tattoo artists. So, Jessica knew she had to forge her path and find her way in an industry that did not have a lot of women.
I got into tattooing when people were gravitating away from Flash. Although I love the look of Traditional Tattoos, I knew if I became an artist, I would have to be true to my own style—and not have someone pick a design from a wall. I wanted to find a niche in the industry.
Jessica had a formal apprenticeship for nearly two years before becoming a full-blown artist. But through it all, there was one thing that she rooted her career in—her client's happiness.
Image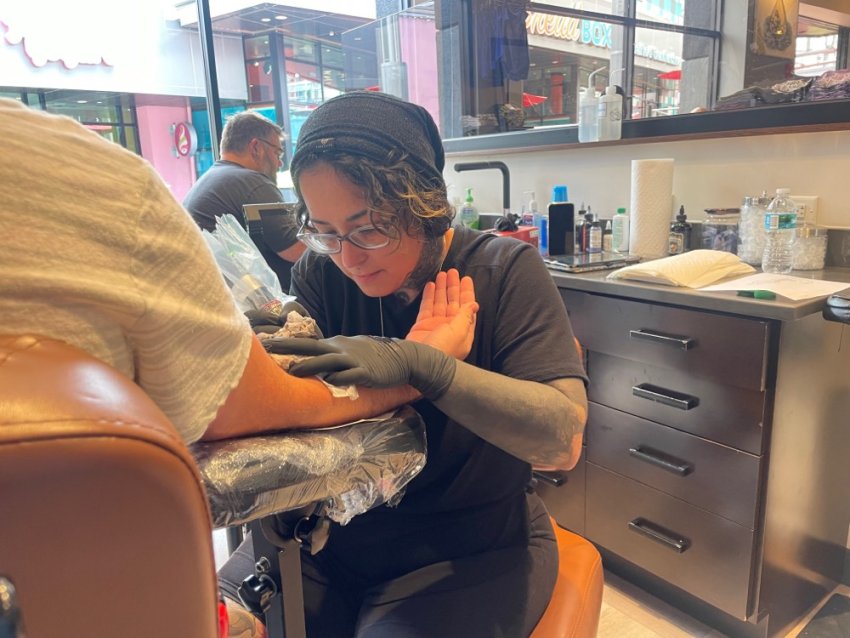 I want my clients to be happy throughout the process. And, at Hart & Huntington Orlando the whole vibe is happy. The people are happy with the experience and everything that surrounds it. Tattoos are awesome, right? But at the end of the day, I think you're selling yourself as a person. And I want people to remember how kind I was to them. I want my clients to feel I was authentic and genuine and be remembered for how I made every one of my clients feel.
I want happiness to be my legacy.