A self-proclaimed nerd, that is.
When he's not hosting Monday Night Raw on USA Network, he's pouring over comic books or watching his favorite movies – both superhero and horror genres.
My favorite horror movie has to be the original Halloween. Classic, cheesy horror. 
It's no surprise that his tattoos reflect his passion for fantastic creatures of all kinds, but it wasn't until recently that he was able to bring them to life.
I wanted tattoos since I was 18 but was never able to get any because of my jobs at the time. I was always looking from the outside in, admiring other peoples' tattoos and mentally collecting my favorites for when I could have my own.  
And he had a lot of inspiration. 
I worked the theme parks, Universal Studio's Halloween Horror Nights … I'd see so many crazy cool art tattoos. Now I'm in a position where I wear a suit all the time, so everything's covered. It's great, I can actually pull the trigger on it now.
His first piece: The Batman Beyond logo.
It was a fluke thing when I got my first tattoo. I'd waited for so long and built the idea up in my head, and then it just happened.
He was at the Spooky Empire horror convention in Orlando, FL when he came upon a tattoo contest. 
My friend was there and had just gotten this really sick Ghostbusters sleeve. It was so savage and the guy did it so fast, it was beautiful. He was like "Dude, go in there and just do something."
So he did.
I was with my girl at the time and she wanted us to get matching tattoos. I got the Batman Beyond logo and she got a bat. From there I was like "I've gotta piece all this together and do all this stuff." That experience opened the door and it just went from there.
Although everyone's threshold for pain varies, Mike never found the tattoo process too grueling to hold him back.
It honestly didn't hurt as much as I thought it was going to. It was actually pretty easy and over faster than I expected.
Now he's got an entire sleeve in the works. His "nerd sleeve," as he affectionately calls it.
The majority of what I'm getting is just stuff I really love. It'll be a lot of Marvel and DC Comics mixed with horror movies like Beetlejuice and characters I used to play at Universal Studios. A lot of randomness combined with comic book pages to make it make sense.
He also wants to do a super realistic classic monsters sleeve on the other arm, but is still debating whether to do that in full color or Black and Grey.
It's going to be all the classic horror movie monsters around the Beetlejuice gravestone almost like they're at his funeral from the scene when he comes out the grave and is flying through the air like Jesus. I'll probably add a couple more monsters here and there as time goes on.
There are three tattoos he wants to get before he continues with his sleeves, though. 
The Marvel logo somewhere on my forearm, the Joker across from my Batman tattoo on my wrist, and then the Star Wars Rebel symbol.
Deciding who could bring his ideas to life was easy.
I was researching my sleeve and tattoo artists on Instagram and so many of the talented guys and girls from Hart & Huntington kept popping up. There were three or four artists at the H&H shop in Orlando that blew me away, but I found Jimmy and he'd done a lot of horror stuff, so I was like, "Cool, this is my dude!
So he inquired about getting tattooed at the shop in Universal CityWalk.
I was surprised, it was so easy to get setup. I found all the information I needed to get started on the Hart & Huntington website. They walk you through the whole process of getting a tattoo there online and via email, without having to pick up the phone and have a long, drawn-out conversation. I travel a lot, so it was phenomenal, so convenient for me.
Beyond the ease of booking, it was the beautiful artwork that made him choose H&H for his tattoos.
Everything from start to finish was super easy. And Jimmy was super fast! It took 20 minutes to get my Losers/Lovers Club tattoo (from the movie It). Maybe not even that long.
Image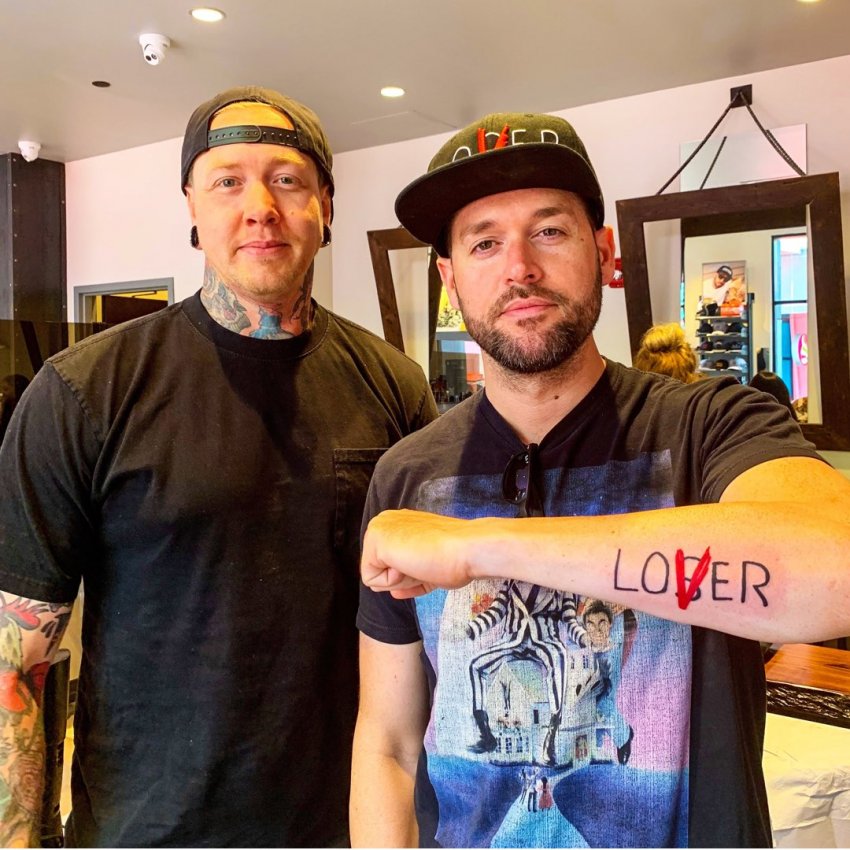 That specific tattoo is now the focal point of his horror sleeve.
It's a piece from another one of my favorite horror movies that I'd always wanted to get and, with the new movie coming out, figured it was the best time to get it. It symbolizes the idea that you can create your own club even if you're an outsider. I've always vibed with that. 
In fact, it's one of the most meaningful tattoos he's got.
Comic book tattoos are who I am, but this one I especially dig. I feel the whole "outsider" thing, finding your own path, doing you. I love that.
Getting a tattoo should be a meaningful experience. That's why H&H artist Jimmy took the time to make sure this tattoo was just as Mike wanted.
Jimmy made sure I was happy with the sketch and size, tested it out in different sizes and places, found the perfect one and laid it in. What I didn't expect was how fast and easy it was, the easiest process I've ever been a part of. You just don't think of the tattoo process as easy, but he made it easy – and he killed it! My tattoo is exactly what I wanted. 
Being that he didn't get his first tattoo until he was in his thirties, Mike has one piece of advice for anyone considering getting their first ink.
I was on the fence for so long and held back from doing it. I'd encourage anyone to not hold back, go do it, pull the trigger if you have something in mind that you love.
It's so easy at Hart & Huntington. All you have to do is make an appointment online. You're in and out fast. You won't regret it.
Image