As a badass personal trainer with a background in wrestling and boxing, he spends his 9-to-5 with his business partner running their online training company. And you'll be able to watch him doing his thing (getting buff, changing lives…) on TLC's upcoming My Big Fat Fabulous Life.
Ryan's lived in Charlotte, NC for about ten years now, but when it comes to getting tattoos added to his precious collection, he travels the extra mile to get the best art out there. And that means making the trek to the Hart & Huntington Tattoo shop in Orlando, FL.
But that wasn't always the case.
I got my first tattoo in high school when I'd see other guys on the wrestling team wearing singlets and showing off, like, a big, cheap fire leg piece. I thought it was so cool, so I got one of my own. 
It was an angel on his back with the face of a man, body of a woman, and a haircut like David Bowie. 
I haven't got it fixed because I thought it was pretty badass at one point in my life. Now I'm so glad it's on my back so I don't have to look at it. There was no inspiration behind it. My friends had one, so I wanted a cheap one to show off as well. That was really it.
Since then, Ryan's tattoos have come up in the world.
I didn't see any good tattoos until I was in college, when I realized I needed to go to a good place, that you shouldn't look for a deal on tattoos.
Now that he's older and way wiser, he started building out pieces that he's really proud of. Like the Native American themed work on his left arm.
I have some Native American ancestry on my mom's side, so the first big piece I got was a skull wearing a Native American headdress. I loved it and wanted to keep adding to it, so I stuck with the theme.
H&H tattoo artist Stephanie James had the honor of adding the latest piece to the mix.
A raven, my Native American zodiac. It's got a tribal feel to it to fit in with the rest. And it's the best one on my arm. Everyone remarks on it.
Ryan came to Stephanie to fill in the gaps, where he had some weird spaces that needed some attention.
I honestly wasn't sure how it was going to go in and what it was going to look like, but Stephanie sized it up and made it fit perfectly. It was unbelievable.
Image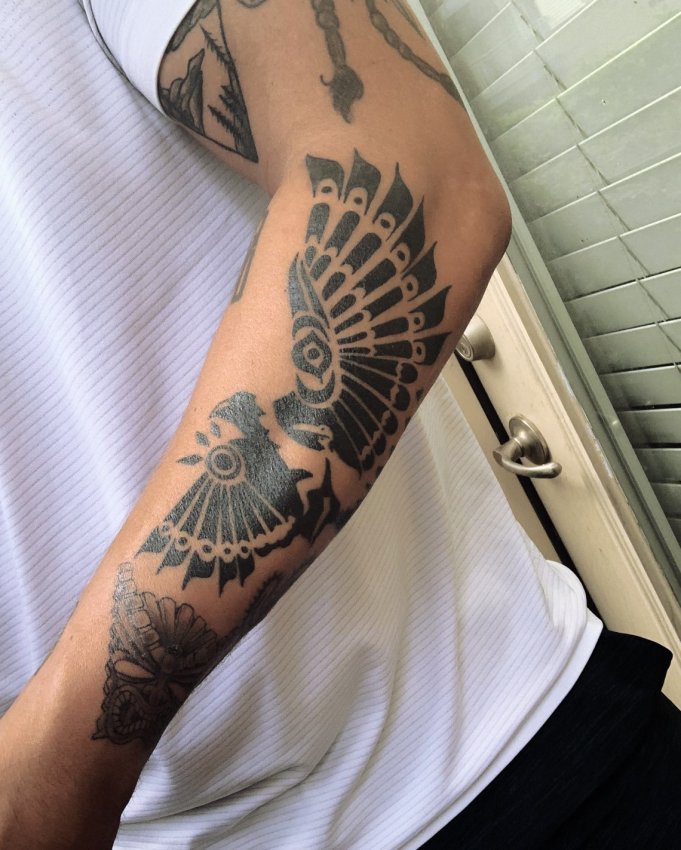 She just crushed it from start to finish. The line work is pristine. She's a phenomenal artist, and I feel honored to have been tattooed by her.
That's a level of trust most tattoo shops don't achieve with their clients. 
Stephanie made me feel really comfortable throughout the entire process. She worked really fast, which is great because I have a really big needle phobia. I have to mentally prepare myself whenever I get a new tattoo, and she was really cool, talked to me the whole time and made me feel comfortable. She felt like a friend.
But it was more than just the A1 experience Stephanie served up that has Ryan making plans to come back to the H&H Orlando Tattoo again.
I loved the shop, the art on the walls. Everyone was really cool and had a good vibe to them. And from the moment I walked in, everything seemed clean which is super important to me. It hit all the bases.
When it comes to getting tattooed, all those credentials should be at the top of your list. Especially the reminder from Ryan not to bargain shop.
You want to go to the best place and pay what you need to get something great. A true work of art. And make sure you're in a place in your life that you know what you truly like, what your style is. This is going to be on you forever.
Good advice from someone who's got at least 20 tattoos on his body now.
I've been to a ton of tattoo shops and this was the best experience I've had from start to finish.
The shop manager Todd was easy to talk to. Stephanie is just an awesome person. And the kit she sent me home with to keep my new tattoo clean was life changing for me. Attention to detail through and through.