It's a quiet Monday morning in the shop, and Isaac and Cool-Aid are the only artists on duty along with shop manager Murph.
The shop doesn't start bustling until later in the day, but that's normal for a business that's open until midnight most every night. One of the guys has an appointment set for a tattoo at 9:30 that evening and they'll be tattooing walk-ins all day long, but for now, they're all up for casual conversation and a few heart-to-heart, or should I say Hart-to-heart, moments.
Image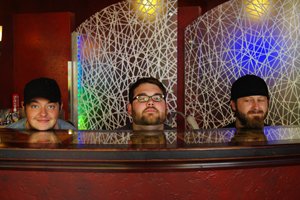 The guys bring their different backgrounds to the mix, making H&H Orlando a tattoo parlor with an interesting blend of skill, humor, intelligence and artistry. Their personalities are reflected through the art on their bodies and their signature styles.
Murph, who is Irish by heritage, has an array of cultural tattoos, but also lets his silly side come out through tattoos like his "I love cheese" piece. One of his most stunning pieces was a collaboration on the Irish cladaugh by Russ Abbott and H&H Orlando's own Cool-Aid. Each of the artists unique styles can be pin-pointed in their designs on the heart in the center of the piece, one side distinctly Cool-Aid-style.
Image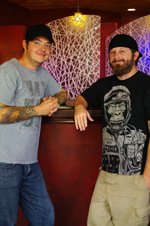 Though Murph says he'll never pick up a tattoo machine as an artist, his respect for the artists at H&H is bar none. After seeing how much work and time the guys put in to become such skilled artists, he says, "I hold them in high regard," remarking that it seems almost disrespectful if he were ever to start tattooing just because he's worked in the environment. There may not be anyone better to have managing the shop than someone who has so much respect for the profession.
Cool-Aid, who was given his nickname by one of his first bosses who liked his use of bright colors, has always had a quirky side. He characterizes his style as a mix of illustrative unrealism with roots in realism - think the Tim Burton of tattooing. "I was always the weird, funky kid," says Cool-Aid, whose interest in art led him to a degree in graphic design before he began professionally tattooing.
His stories about his life as a tattoo artist are as colorful as his artistic style, and he gladly gives up tales about tattooing everyone from a priest, who wanted the Green Lantern, to a blind man, whose sister oversaw the successful creation of the image he wanted. (Keep checking back on the blog for more from Cool-Aid's vault of stories.)
Image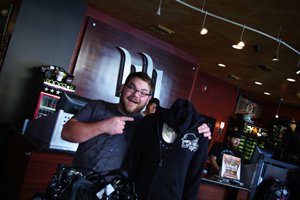 Isaac is about as friendly as he is experienced, and with an estimated 10,000 tattoos completed there's no question what that means. Like Cool-Aid, Isaac has always been interested in art. At the age of six, he began drawing animals he saw in National Geographic, and his skill eventually led to a formal apprenticeship at a tattoo shop. That was over ten years ago. Today, Isaac creates about 1,000 tattoos per year.
His advice to those looking for the right tattoo artist, "Have high expectations; research the artist before you get tattooed." He also suggests making sure that the artist has work that is similar in style to the design you'd like to get. Isaac is quick to point out that each artist has a specific style that may or may not work well with your tattoo style. For Isaac and his lengthy portfolio, there's no question that his customers are happy with his work.
Isaac, Cool-Aid and Murph are just a handful of the quality artists and employees of the Hart and Huntington Orlando Tattoo Co., but their dedication to professionalism, expertise and skill is an over-arching theme in the shop that you'll find in every employee.